Thank you Kansas City for coming to our sales, we truly appreciate you……..
Last day of this sale.We have all of these items left. This has been a amazing sale and the turnout was incredible.Thank you Kansas City for showing up as we appreciate you.
We will run Monday 9 to 5 and Some items will be half price and some we will just negotiate on and some we will take reasonable offers.We are still open and have a third of the warehouse items left to sell so come on out and get your deal…………..
When we close the doors tomorrow at 5 we will open back up on July 6th to finish off whats left.A huge sale needs many days to liquidate and as you look at the pictures you will see at least two thirds is gone and we need to the rest to go away so come make us some offers.
Furniture and Household
La Barge gold ornate mirror 3x2
HEKMAN sofa table 5 foot by 2 feet
HEKMAN drop leaf table Burl wood and Cherry
Madden McFarland white armless chairs
John Stuart Mahogany drop leaf tables
C.R. Laine sofas all 7 feet in length
Custom made 7 foot white sofa
Spanish Mediterranean Mahogany server 5 foot by 2
Walnut antique wash stand 3 foot by 2.5 foot
Pine wood with Walnut stain dresser
Pine wood with walnut stain lingerie chest
Oriental rug 9 by 5
10 by 10 purple shag rug
10 foot round cream shag rug
8 foot round hand knotted Oriental rug
6 by 4 genuine hand woven Oriental rug
6 by 4 hand woven Pakistan rug
6 by 4 hand woven Tibetan rug with matching 10 by 2 runner
5 by 3 Jungle Garden collection rug
5 by 3 Piper Glen rug
7 by 5 hand woven Oriental rug
10 by 10 Leaf pattern area rug
9 by 6 hand knotted Tibetan rug Gurash Black
8 by 4 Tibetan hand knotted rug
12 by 9 hand knotted Persian rug
8 by 5 Mandalay area rug
15 by 12 Persian hand knotted rug
17 by 14 area rug
12 by 8 Oriental hand knotted rug
Highland House fabric chair
J.R. Hamil prints
Original Oil on paint board by Franklin 31 by 27
One original oils on canvas by Stanley 17 by 14
Two Landscape ruin prints on paper
Pushman print music of serenity 30 x 30
Large sofa oil Painting 47 by 37 unknown artist
Porcelain and ceramic German Figurines
decor pcs
Paul Robert 7 foot sofa
KLING Mayville side table
Oak and iron side board 5 by 3
Thomasville queen 4 poster bed
Henredon Celestial Expandable Walnut 5 foot round dining table with 4 chairs leaves inserted it is 7 foot round
Bernhardt Oak with mixed wood dining table 7 foot by 3 with 2 captain chairs and 4 armless chairs it is 10 foot 8 inches with leaves inserted
Bernhardt Oak curio 8 foot 3
Lortz Mahogany 8 foot by 3 armoire
SAMSUNG Side by Side Refrigerator Model RS22HDHPNSR 35 by 30 by 70 22.3 Cubic foot
Collectibles:
Radio Shack radio controlled toy Sherman tank
Longaberger baskets
Precious moments figurines
Items To Be Sold
These items (and more) will be available for sale
Busy Beever Upcoming Sale
Busy Beever Cares
We love estate sales, and We treat our clients like family.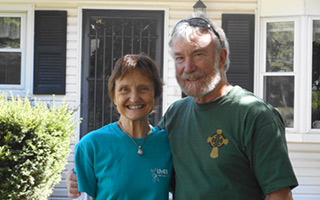 Former Clients Elaine and Pat Jones
Please take a look at Elaine's story in our Testimonials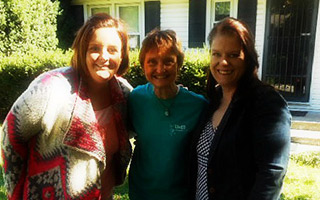 Busy Beever Owners Past and Present with Former Client Elaine Jones
Please see her heart warming story in our testimonials that proves that this industry doesn't have to be all about items bought or sold during an estate sale.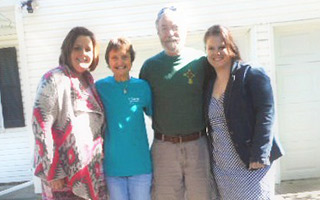 Busy Beever Owners Past and Present with our former client Elaine and Pat Jones
This was a joyful day with Elaine and Pat after Busy Beever completing their estate sale. 
Never Miss a Busy Beever Sale
We do not send spam or soliciting emails