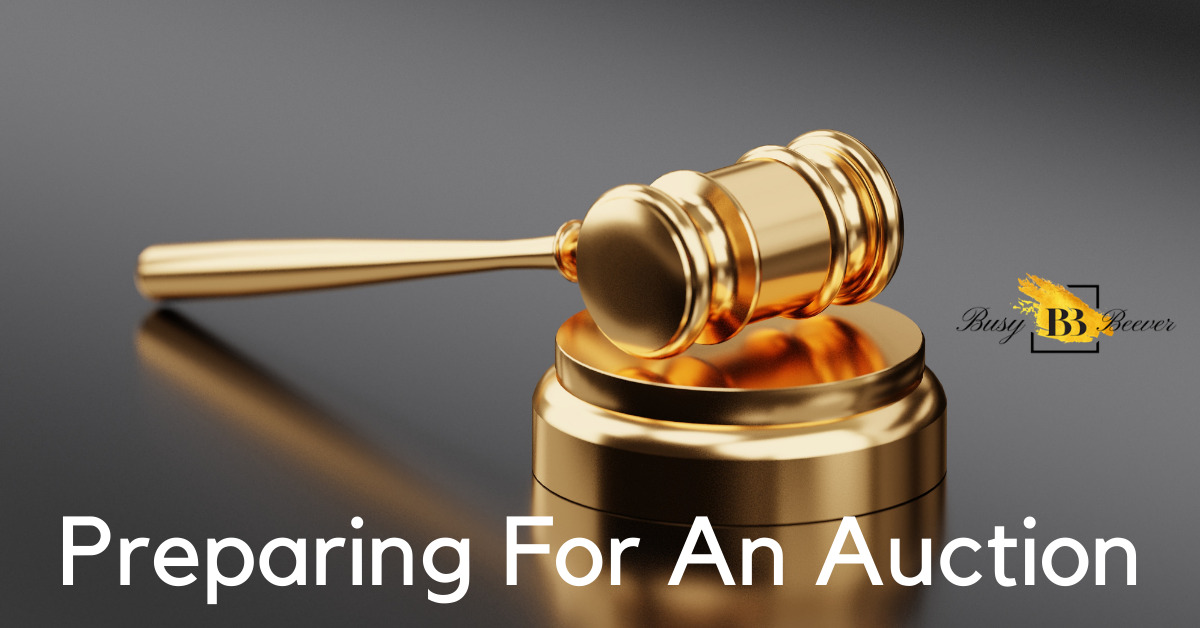 Preparing for an auction is easy and enjoyable! If you've ever been to an auction, you've probably experienced the thrill and excitement of seeing people bid and compete with each other for ownership of sought after items. There are so many unique items auctioned off every day here in Kansas City and all over the world. It is so fun to see who comes out as the highest bidder and has the right to take home the ever-so-wanted item.
What if you are the seller in this situation? You may have an item or a number of items that you know will fetch a considerable amount, but you aren't sure exactly how much someone is willing to pay. This is especially true with one of a kind items. You never know just how much it could sell for if someone wants it bad enough. There have been one of a kind paintings and antiques that have sold for well over $100,000. The answer to finding out what your item is truly worth in the current market is to bring it to auction and let the audience decide what the highest price will be! The company running the auction needs to know a minimum that the buyer is willing to sell the item for. This is a good price to start the bidding off.
What happens at auctions
Even before the auction day, the auction house catalogues the items that will be up for bidding. The auction house looks at the items and internally values them to estimate how much each thing should go for. Of course, the final price on auction day depends on interest from the bidding that happens on sale day. There are very good deals for the buyers and very good deals for the ones that are selling as well. Being able to sell a lot of stuff fast is a huge perk of having your things auctioned. They will sell!
The commencement of the auction typically comes with the sound of a ringing bell or an announcement. Before an item is presented for bidding, the auctioneer will briefly describe the item, talking about its historical or special features. The bidding starts with the indicated price that was laid out during the discussion stage pre-auction, and the opening price then starts increasing with every bid that is presented to the auctioneer. Oftentimes you may find that the price of an auctioned item will well surpasses the original price, which can really bring a buzz of excitement to the room.
Don't cough at the auction… Or else.
You can cough! It is okay. It is a common thought that if you let out a cough when the auctioneer is asking for a higher bidder, he'll take your cough as a bid. While it might be true on TV or in the movies it is not likely. Auctioneers look out for clear signs of body language and are commonly understanding of a cough. They look for signs of interest like a raised hand or a bidding paddle.
Preparing for an auction
So, if you're all set to dive into the world of auctioning, how do you prepare for an auction?
Here are some tips for the first time auction goer:
The first thing you'll want to do is register for the auction early to ensure that you've reserved a seat or spot when bidding. You'll want to make sure that you've brought at least two forms of identification. This can be your driver's license and a recent bill addressed to your name. You may want to bring your check book or credit/debit card along with your banking details.
Once you arrive at the auction house you'll want to check in and they will give you a bidding paddle or an equivalent item that clearly shows your unique bidding number – don't lose it! Arrive early in order to familiarize yourself with the auction room so that you feel more confident and comfortable when the excitement of bidding starts. A lot of the time the auction will have a viewing period that starts a few hours prior to bidding.
When the auction is in full swing, ensure that you sit or stand in view of the auctioneer. You want your gestures to be seen clearly. The visual cues will allow the auctioneer to continue calling out to the rest of the room for a higher bid. If nobody beats your bid – you've won the sale. The deal is sealed once the auctioneer brings the hammer down to the gavel.
Once you've made a successful purchase, check if you're required to insure the item at the point of exchange – this is especially prevalent when you're in a real estate auction as sometimes this responsibility is passed on to the buyer. We always help our customers make sure that they're covered.
Final thoughts
Being a part of the atmosphere in an auction is an exhilarating experience. It is truly a sentiment shared by many people. The build-up of excitement and tension in the air, the fierce competition during bidding time, and the joy knowing your bid came on top – this is what makes the auction such a wonderful event to go to.
If you don't win the bid for an item you have set your eyes on – don't be discouraged. Part of the fun of going to an auction is the unique experience. Being in the exciting room, taking in the atmosphere, and having conversations with great people about things of mutual interest is priceless! You don't always have to win to have a good time!
In this article, we took a look at all of the aspects that surround this thrilling event. Auctions are so many different things blended together that make up an ubelieveably great time. Auctions are a friendly competition, spectator sport, and a form of retail therapy all at once.
If you're looking for great auction companies in Kansas City, contact us now. We have years of experience in the business and have seen many quality items come and go through our doors with satisfied customers on every occasion!