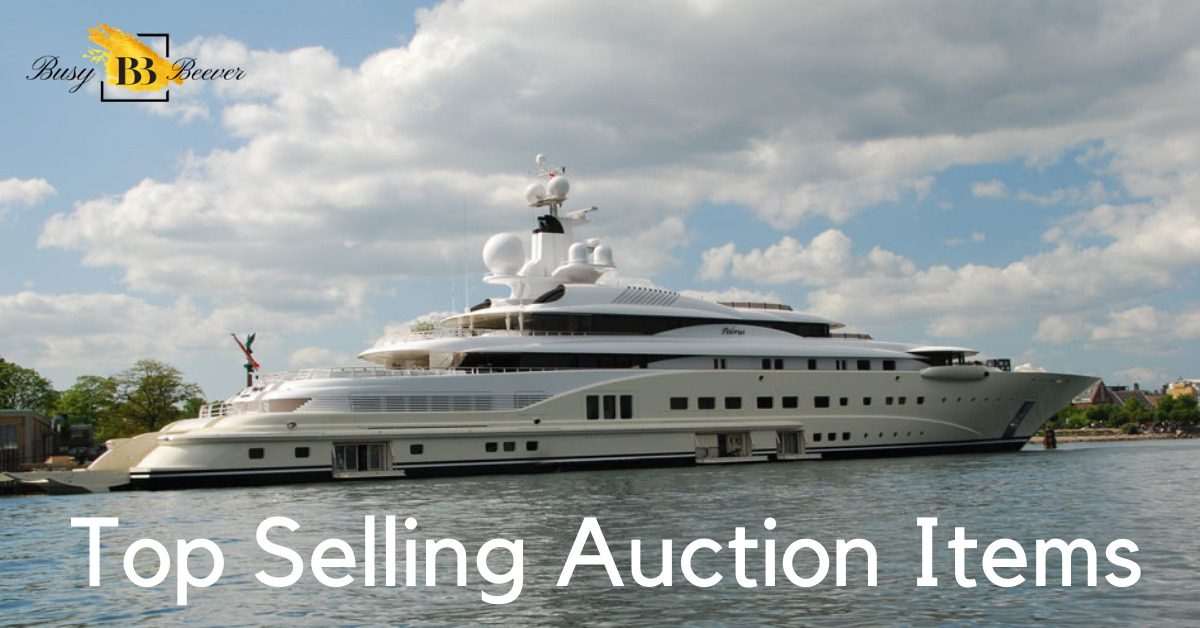 The Top Selling Auction Items of All Time
Auctions can be a fascinating spectacle to witness. The large sums of money the wealthy fork out to get their hands on some of the rarest and prestigious items/investments leaves one amazed. From the most expensive painting ever to the priciest car, there is seemingly nothing money can't buy. 
Every year, wealthy collectors set world records at these auctions and buy some of the most coveted items on the planet. These prestigious auctions carry a collection of some of the most timeless and rarest treasures found nowhere else on earth. It's the rarity and the legacy behind these items that are the driving force behind them being sold to enthusiastic collectors at mind-bogglingly large sums of money. This is a good example of supply and demand. If there are very few of a certain item that many people want then people are forced to pay very high prices to get the item. Whoever has the most money wins the auction. It is interesting to see how high prices can go when multiple people trying to get an item that they want. Some items have sold for a very large amount of money. 
Here is a list of the most expensive items ever sold at auctions:
The Salvator Mundi ($450 million)
The Salvator Mundi, a painting by the famous Renaissance artist Leonardo da Vinci, is the most expensive piece of artwork ever sold. This painting dates back to c. 1500. This long-forgotten picture was authenticated as Leonardo's original artwork after being disappeared from the year 1763 up until 1900. In fact, it was once believed to have been destroyed until it was rediscovered and restored. This vintage piece of art was purchased by Saudi Prince Bader bin Abdullah bin Mohammad in 2017. It sold for a staggering $450 million (£364 million).
Les Femmes d'Alger ($179.4 million)
French for Women of Algiers, Les Femmes d'Algers (Version O) is one in a series of 15 paintings by the renowned Spanish artist Pablo Picasso. It was painted in 1955 as a homage and tribute to Eugene Delacroix's 1834 painting Les Femmes d'Alger. Picasso would often visit this piece of his artwork several times a month when it hung in the Louvre during the 1950s. That is how much he loved looking at it. This eye-catching masterpiece was first sold in 1997 for $31.9 million to an anonymous Saudi Arabian collector living in London. It was later sold and resold several times over the years until finally it was bought for $179.4 million by the Qatari prime minister, Hammad bin Jassim bin Jaber Al Thani in 2015.
L'Homme au doigt ($141.3 million)
Translating to "Pointing Man" or "Man Pointing", L'Homme au doigt is a bronze sculpture created by the Swiss artist Alberto Giacometti in 1947. It became the most expensive sculpture ever sold when it went for a record-setting price of $141.3 million at a Christie's auction. Giacometti made six versions of this masterpiece (along with one artist's proof) most of which are owned privately or in foundation collections with one being in a museum. It is considered to be one of the most iconic pieces of sculpture ever created by an artist.
The Giga Yacht ($168 million)
The most expensive thing ever sold at an online auction was the Giga Yacht. The yacht consists of a multitude of luxuries ranging from a helicopter garage to a movie theatre to its many guest rooms and suites. As the yacht was incomplete at the time of its sale, it initially went for half of its full price, which was $85 million. The luxury boat was then bought at the full price of $168 million by the Russian billionaire Roman Abramovich.
Rabbit by Jeff Koons ($91.1 million)
Created in 1986, the shiny stainless steel Rabbit sculpture by Jeff Koons is the most expensive piece of artwork ever sold by a living artist. It was bought in May 2019 by Robert E. Mnuchin, an art dealer, for a shocking $91.1 million at Christie's in New York. Since its inception, Jeff Koon's Rabbit has become one of the most talked-about pieces of artwork due to its inspiration being driven from a child's inflatable toy. This also makes it one of the most controversial yet iconic pieces of work to be made in the 20th Century. 
Portrait of an Artist (Pool with Two Figures) ($90.3 million)
This painting is one of David Hockey's most renowned paintings. It depicts two men: one clothed male figure looking down at the pool and one figure swimming in the said pool. It was created by the artist in May of 1972 and was later sold for a price of $90.3 million in November 2018 at Christie's. Hockney created this piece as a representation of the emotional life of a gay man. It was his way of living in defiance during a time when these things were deemed culturally inappropriate.  This painting broke the record of Jeff Koon's Balloon Dog as being the most expensive work by a living artist.
1962 Ferrari 250 GTO ($48 million)
The 1962 Ferrari 250 GTO race car holds the record for the most expensive car to ever go under the hammer at an auction. It was purchased in May 2018 by a collector from Chicago, David MacNeil, for $48 million at Sotheby's. It is widely regarded as the Holy Grail of collectible cars as only 39 more cars of its kind have ever been made. Additionally, it won the 1962 GT championship and has more than 15 wins under its belt. 
If this type of content is something that tickles your interest and you are an avid collector in search of auctioneers in Kansas, you are at the right place. Being one of the best auction companies to exist in Kansas City, we provide you buying-access to some of the most high-quality and finest items that you'd be hard-pressed to find anywhere else. BusyBeever.com is ready to help you with selling your most prized possessions!