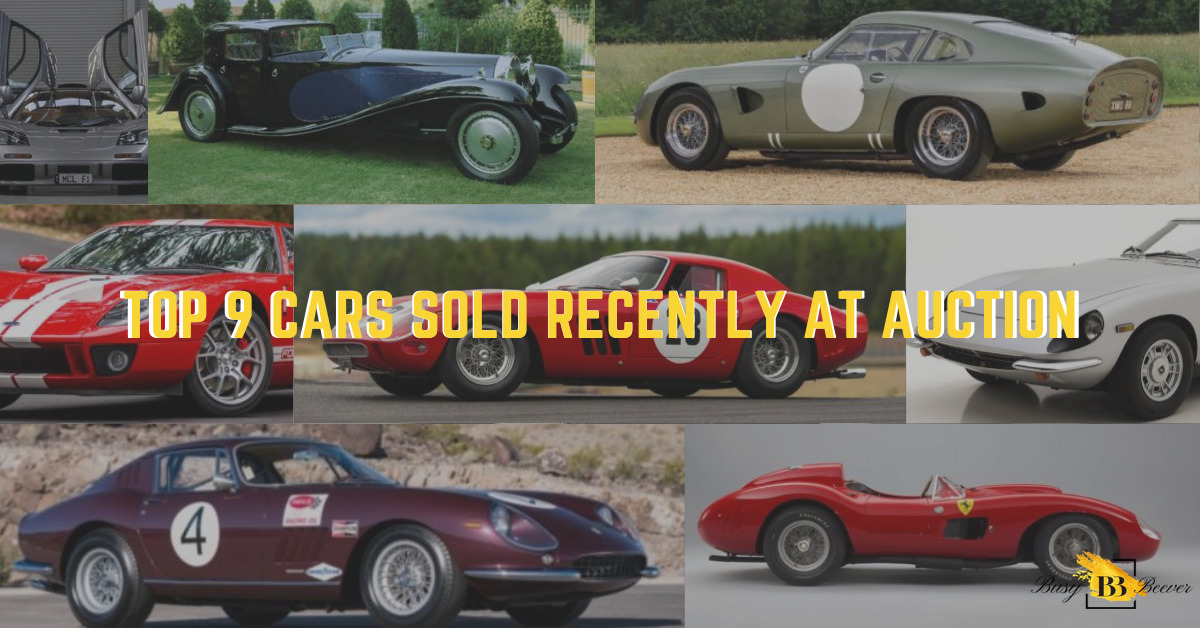 Top 9 Cars Sold Recently At Auction
In this modern age, everyone wants a luxury car to travel through life's daily journeys. This means that people are willing to purchase cars that are going to bring joy to their life. They will spend a pretty penny on that joy. Whether it is a new vehicle or a classic – They're worth a lot to the folks that love them. 
Cars sold throughout the years have been amazing. We love selling cars and hope to sell many more like these:
Top 9 Recent Sales Of Vehicles At Auction
1962 Ferrari 250 GTO
The 1962 Ferrari 250 GTO sold at a record price of 48.4 million dollars in the auction of RM Sotheby in Monterey, California in 2018.
The frame of this Ferrari is made up of tubular steel. This boasts an exhilarating V12 front-engine. With a top speed of 173 MPH, this car was FAST for 1962.
1957 Ferrari 335S
This sports car was auctioned for $37,207,825 in the French auction house, Artcurial, 2016.
This two-seater spider was made in Italy in 1957. With a 7.7 foot wheelbase and a V12 engine this Ferrari was one to be admired. 
1966 Ferrari 275 GTB/C
This car was auctioned off in 2017 for $14,836,536. This car is considered one of the top 10 greatest Ferraris of all time.
This Ferrari 275 has a V12 as well. It is known for having powerful shock absorbers and great handling. It has 4-wheel independent suspension with coil springs and hydraulic disc brakes. These were HIGH TECH back in 1963.
1963 Aston Martin DP215
RM Sotheby's auction sold 1963 Aston Martin DP215 for $21,922,719 in 2018. It was presented for the first time at the London Motor show in 1959.
This beaut has two doors and a front engine. The body is made up of Magnesium alloy on steel chassis. This thing was a trooper. 
1931 Bugatti Royale Kellner Coupe
This Royale Kellner Coupe sold for $21,570,198 by Christie's in 2018. It was one of the biggest cars in the world. It was also known as Bugatti type 41.
The manufacture of this Coupe was Bugatti. They built them from 1927-1931. It had a huge engine that was 4.6 feet long and 3.6 feet high. With a 169.3 inch wheelbase and 252 inch length, it had an enormous body shape. Awesome vehicle. 
1994 McLaren F1 LM
RM Sotheby auctioned the 1994 McLaren F1 LM for $19,805,000 in 2019.
This model was constructed based on McLaren F1 GTR. It had an engine with a compression ratio of 11:1. The aerodynamics system of LM and diffuser was based on a GTR race car.
2005 Ford GT
The 2005 Ford GT is sold in 2020 for $247,500 by Mecum auctions during the pandemic.
The frame is made of aluminum panels. It used a V8 engine constructed with aluminum alloy. This car was made up of a lot of aluminum which weighs a lot less than its counterpart – steel. The top speed of the 2005 Ford GT was 205 MPH. 
1972 Intermeccanica Spyder
This 1972 Intermeccanica Spyder is sold in 2021 for $137,500 Mecum auctions.
It had a V-8 engine and a four-speed transmission. This car had Dunlop radial tires and powerful brakes. This auctioned car had a red color with power windows.
Duesenberg SSJ
This sold for a HUGE 22 million by Gooding & Co. Pebble Beach 2018.
The speed of the Duesenberg SSJ was quick. It had a 400 BHP supercharged inline eight-cylinder to produce this awesome speed. 
 List of some other notable sales:
1936 Mercedes-Benz 540K Special Roadster sold for $12,819,503 by Gooding & Company, 2012
1961 Ferrari 250GT SWB California Spider sold for $12,652,949 by RM Auctions, 2008
1933 Alfa Romeo 8C 2300 Monza sold for $12,492,604 by Gooding & Company, 2016
1960 Ferrari 250GT LWB California Spider Competizione sold for $12,281,014 by Gooding & Company, 2012
1964 Ferrari 250 LM sold for $12,200,292 by RM Auctions, 2014
1960 Ferrari 250GT SWB sold for $12,069,502 by H&H Classics, 2015
1968 Ford GT40 sold for $11,980,605 by RM Auctions, 2012
1931 Duesenberg Model J Long-Wheelbase Coupe sold for $11,494,228 by Gooding & Company, 2011
1962 Ferrari 330 TRI/LM Spider sold for $11,192,797 by RM Auctions, 2007
1932 Bugatti Type 55 sold for $10,835,954 by Gooding & Company, 2016
Ferrari 290 MM sold for $22005000 by RM Sotheby's, Los Angeles, California, 20181956 Aston MartinDBR1 sold for $22550000 by RM Sotheby's Auctions, Monterey Sale, 2017
It is amazing to see and learn about these vehicles and the history of how much they sold for. 
Need help selling or finding a particular vehicle? Give us a ring at (816) 820-1124
We are proud to serve as a trusted auctioneer in Kansas, Missouri, and the surrounding areas.